T C HANO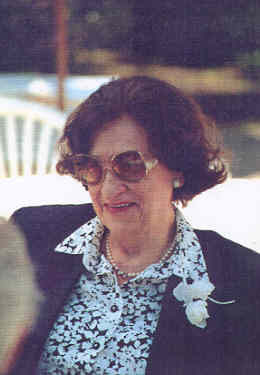 Harriet Theodora Constanze Noll was born on 10th January 1920 in Essen, Germany and died near Bonn on 19th October 2003. Perhaps her artistic talents were inherited, as both her parents Walther and Maria Ruhrmann had such abilities, the one in music, the other in acting and writing plays.

Harriet displayed an early propensity for drawing and painting, encouraged by her father who was an architect. For a year or two before the war she used this to good effect, appearing on stage as a quick-draw artist, together with her sister Eleanor, an opera singer.

The two sisters spent much of the war years in Berlin. Harriet worked as a librarian with a Berlin based company and it was there that she met her future husband Dr Helmut Noll, a scientist. They were to marry in 1953.

Harriet managed to get out of Berlin in January 1945, no easy feat, as the movement of German citizens had to be sanctioned by the authorities. She made her way back to Essen, her sister Eleanor choosing to stay on in Berlin.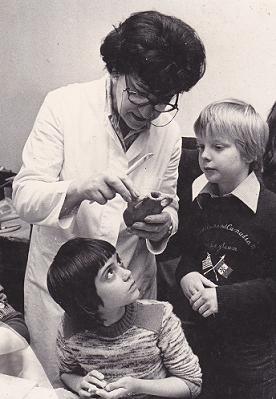 The trauma of the war years behind them, both sisters began to work together on stage again. Harriet, as stated specialized in doing drawings and paintings, blindfolded, in a matter of some five minutes.

After her marriage to Helmut, the couple lived in Bonn for some years, Helmut working near Cologne. They subsequently took on another flat in Zurich where Helmut had taken on a new job with a Swiss Trading company. After many enjoyable years in Zurich, there followed a move to Blackheath, London, where Helmut had been appointed Managing Director of a major German company.

Harriet's nascent interest in art took root again in Zurich and continued onto London, where she exhibited some of her work, as indeed she had done in Zurich. Upon Helmut's retirement they settled back in the flat in Bonn. Harriet took on a large ground floor flat in another quarter of the city and converted this into a studio. Here she did much of her most creative work. Having acquired a kiln she was now able to fire her clays herself. Two major exhibitions soon followed.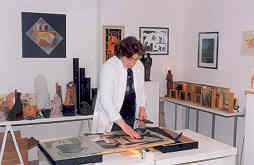 Harriet created a large number of sculptures. These for the most part display her love of the family, family life and of children. She observed people keenly and movement is well encapsulated in many of her sculptures. Unable to have children themselves, much love and affection was poured onto her nephews as indeed to the children of friends and acquaintances, of whom she had a great many. They benefited from her wisdom, kindness and knowledge - and boundless patience. She was especially proud to be able to work at the Landesmuseum in Bonn (the Museum of the State of Nordrhein Westfalen), where she taught appreciation of art to children of all ages. More than that, it was a very hands-on approach. Every year a theme would be chosen for her classes, for example, Bonn in Roman times, and each child would contribute a number of exhibits which would be displayed in the museum in an exhibition, open to parents and the general public. Children would be encouraged to draw, paint, work with clay, and much else. She believed quite rightly that every child has an ability to create something worthwhile, it only needed the right encouragement to bring this to the fore. She continued in this for many years, one or two days a week, and totally without any remuneration. She was delighted when a number of her former pupils went on to achieve success in fields where her tuition undoubtedly proved invaluable; for example, one former pupil went on to become a designer for Volkswagen.

A few years after Helmut's death in 1991 Harriet gave up the studio. She took on a further flat in sheltered accommodation nearby,where she spent the remaining years of her life. Here she continued working on her x-ray collages, an art-form she had developed in the late 1970s and which gave her particular pleasure. Her maxim here was 'Der Mensch innen, und der Mensch aussen' (the human within, and the human without).
Harriet worked under the artist name of T C Hano since the early 1980s. Both her sculptures and collages have been sold extensively in Germany and other countries in Europe and we are delighted to say interest is now being shown here in the UK, Marco Pierre White having recently become the proud owner of a bronze of hers.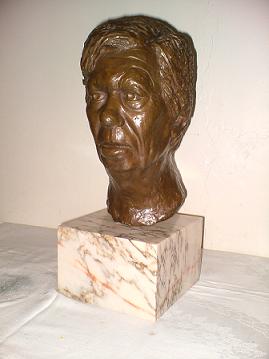 Bust of Helmut Noll cast in bronze.